Hartley Elementary School will grow a community of responsible, confident, caring and educated citizens.
Hartley Elementary School will provide a safe and caring environment where every student's academic, emotional and social needs are nurtured. Parents, teachers, and staff work together to create a community in which children are inspired and empowered to attain their full potentials and embrace life long learning.
Student drop off starts at 8:00 a.m.
School day begins at 8:25 a.m.
School day ends 2:45 p.m.
Early Release every Wednesday 1:45 p.m
No campus admission or supervision for students prior to 8:00 a.m.
Your children are the motivation for all of our efforts, the center of all we do. Our goal is for students to feel at home learning in an environment where they are loved as they are taught. With outstanding teachers who understand the way individual students learn, Hartley provides academic rigor in an environment that emphasizes thinking and creativity. As we begin the new school year, we rededicate ourselves to providing a culture of caring for our students. Students, teachers, staff and parents are the "heart" of Hartley!
Principal
Medication Forms
If your student(s) require our School Nurse to assist them in medication administration or treatment, please read the medication policy below and then fill out the two additional forms. Please turn the forms in to Nurse Rosemary at the Front Office. 
Medication/Treatment Authorization Form
2021-2022 Instructional Materials Adoption for Mathematics
The St. Johns County School District curriculum department formally announces the review process for the 2021-2022 Instructional Materials Adoption for Mathematics. The core resources that have been submitted for evaluation have come from the state adoption bid list and other submitted resources from publishers when available. Additional resources for advanced programs may be reviewed from materials listed as appropriate for the program indicated.
Please visit the instructional materials website to view the resources that are being considered for adoption. If you would like access to any available printed materials or require assistance reviewing the online resources, please call the Instructional Resources and Media Services office at 904.547.3947. Materials are available for review from 8:30 a.m. - 4:30 p.m.
We encourage parent and community participation in our adoption process. If you would like to serve on a school committee and formally review the resources as a part of the school review team, please contact any school or our office at 904.547.3947.
To learn more about the policies and procedures for textbook adoption, visit the Florida Department of Education Instructional Materials Website.
B.E.S.T. Standards Presentation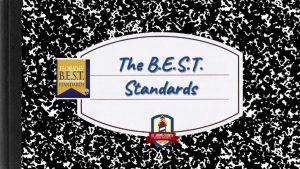 The purpose of the video is to provide parents and community members with information about the new B.E.S.T. Standards for English Language Arts and math. The video also explains the timeline for the implementation of the new standards.
View the B.E.S.T. Standards Presentation
FortifyFL is a website and app developed at the direction of the Florida Legislature. Any student, educator, parent or member of the public can report school safety concerns directly to law enforcement and school administrators anonymously and easily through the FortifyFL app or getfortifyfl.com.
This is just a reminder that anyone (parent, guardian, friend, neighbor, aunt, uncle) must have school access to attend an event at Hartley, have lunch with a student and/or attend an awards assembly. If you have not already done so, please complete the School Access Form. The process for approval may take up to 4 weeks, so please fill out the application sooner than later for any guests that would like to have school access. Once the application is approved, school access will be valid for three years.
Sunshine State Young Readers Award Program
The Sunshine State Young Readers Award Program is a statewide reading motivational program for students in grades K – 8.  The Florida Association of Media in Education (FAME) and the Florida Department of Education (DOE) collaborate to select a list of new recommended books for children each year. Please click on the links below for a listing of this year's SSYRA books for our primary and intermediate readers: