The Nest Extended Day Program is accepting registrations for the 2023 – 2024 school year! Please click the registration link and pay the registration fee in order to reserve your spot! 
Contact Information: 
Texting Availability: 7:00AM – 5:30PM on the days that school is in session. 
Please Note: This is an emergency contact line for transportation changes. If you have questions please use the email above. 
Texting Option: 904-274-1999
Are you stuck in traffic?  Do you need someone else to pick up your student(s)? Do you need to add someone to the approved pick up list? The Nest is now offering an emergency texting option. Simply text the number above and it will go to a secure line that The Nest staff can reply to and make the appropriate changes. 
We are so excited to have you grow with us!
*Payments are due the 15th of EVERY month!*
As of the 2023 – 2024 school year The Nest Hours are changing from 6:30 AM to 7:00 AM. Parents and Guardians will be allowed to drop students off at the Multipurpose Room at 7:00 AM. We apologize for any inconvenience this may cause.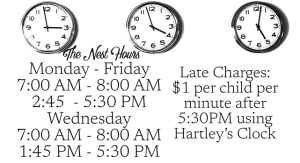 If you have any questions regarding the Extended Day Program, please contact: