Welcome to Hartley's Extended Day Program!

Please check out the Important Information section for the registration link (it is online), handbook, and payment calendar.
We are so excited to have you grow with us!

*Payments are due the 15th of EVERY month!*
This program is 100% self-supportive and does not receive funds by District, State or Federal agencies. Your payment is the sole source of funding. According to the Florida Constitution (Article VII Section 10), all fees must be paid in advance of service. Payments are due the 15th of every month and fees must be collected in advance per Florida Law.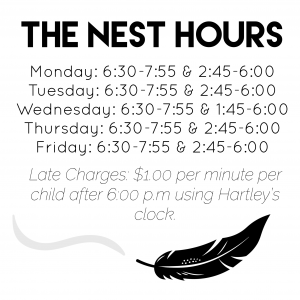 Morning Hours
Monday – Friday 6:30a.m. – 8:00a.m.
Afternoon Hours
Monday, Tuesday, Thursday, Friday 2:45p.m. – 6:00p.m.
Wednesday 1:45p.m. – 6:00p.m.
Late Charges: $1.00 per minute per child after 6:00 p.m using Hartley's clock.
If you have any questions regarding the Extended Day Program, please contact:
Jacey Gwaltney, Extended Day Coordinator