Click here for a list of summer camps and activities for our Hartley Hawks!
Kindergarten Registration 2016-2017
For more information about what is needed to register, please refer to the St. Johns County School District Website.
Welcome to Hartley Elementary
Trustworthiness from Jesse Gates on Vimeo.
Here are a few helpful links:
To sign up for the online newsletter, click on the newsletter link above and then subscribe on the next page by inputting your email address.
School Hours
The school day start time for this year is 8:30 a.m. and dismissal time is 2:50 p.m. Wednesday Early Release time is 1:50 p.m.
Be Informed
---
Free Use of High School Outdoor Facilities This Summer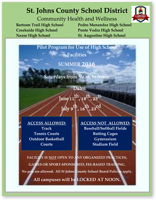 For six Saturdays in June and July, outdoor facilities at each of our high schools will be open for public use to promote community health and wellness. Some restrictions apply.
Please view the flyer for details.
---
Hartley Elementary has again been rated an
school for the 2014-2015 school year by the Florida Department of Education.
Learn about St. Johns County School District's new instructional evaluation system that will advance student growth and academic achievement.
Sunshine State Young Readers Award Program
SSYRA-15-16-AR-RL-PTS-Quiz-
Before / After School Child Care
The YMCA offers morning and after school child care for students. Morning care is from 6:45 a.m. – 8:00 a.m. and Afternoon care is from 2:50 – 6:00 p.m. Get more info about the YMCA Before / After School Child Care Program
Here are important forms:
BAS Registration Packet_SJCYD_15-16
Mission
Hartley Elementary School will provide a safe and caring environment where every student's academic, emotional and social needs are nurtured. Parents, teachers, and staff work together to create a community in which children are inspired and empowered to attain their full potentials and embrace life long learning.
Vision
Hartley Elementary School will grow a community of responsible, confident, caring and educated citizens.
School Newsletter
Enter your email address and click Subscribe to receive an email update each time a new edition of Hartley Headlines is released.
Hartley Elementary is recognized as a Five Star School for exemplary community involvement. Thank you to all in the community for all you do for our students.
Help keep Hartley a Five Star School. Use the link below to complete the online volunteer application. Online Volunteer Application
Thank You to our 2015-2016 Business Partners!  
A1A TV Installs/ Todd Whaley

Atlantic Ecological Services/ Jody Sisk
Berkshire Hathaway/ Joyce Haley- 904-377-8601

Coldwell Banker/ Bill Miller-904-315-8930

Radcraft Construction- 904-669-1076